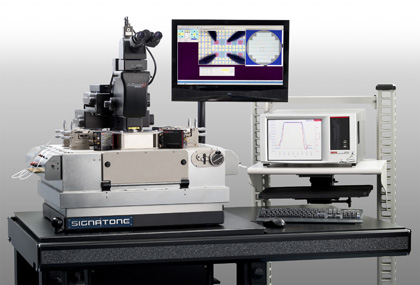 Wafer Level Advanced Parameter Measurement System
For parametric testing that maximizes the productivity of technicians and engineers in R&D, the Model 4200-SCS Semiconductor Characterization System combines lab-grade DC and pulse device characterization, real-time plotting, and analysis with high precision and sub-femto amp resolution in a fully integrated characterization system. Options include the Model 4210-CVU Capacitance-Voltage Unit, Model 4225-PMU Ultra-Fast I-V Module, Model 4220-PGU Pulse Generator Unit, and Model 4225-RPM Remote Amplifier/Switch.
The local chambered WaveLink probe station from Signatone provides the perfect probing foundation for parametric testing with the 4200-SCS. Integrated with the 4210-MMPC-L cabling system allows seamless parametric testing with up to 4 probes. The Wavelink local chamber probe station is available in 200mm or 300mm; manual or semiautomatic configurations. The removable panels of the local chamber allow maximum versatility of probe placement and integration with the 4225-RPM. A variety of linear motion micropositioners assure micron and sub-micron placement of the probe tips. Probe tips are guarded to within 1mm of the contact. The guarded triaxial chuck is available in ambient, heated or hot/cold configurations.
Image:
WaveLink-210 RF Probe Station
Signatone
offer a full range of RF/Microwave Probe stations and accessories that are ideal for wireless and bluetooth probing applications. With an easy interface to the network analyser range, Signatone have all of your RF probing requirements covered. Here are just some of the applications that we cover in the RF field;
Noise figure measurements

Scalar analysis to 330GHz
Image: WaveLink CAL Chuck
Image: WaveLink-1160 Microwave Probe Station
To see the full product range available and individual product data sheets, please click on the link;
Signatone Probe station catalogue
RF Micropositioner and RF probes
High Impedence Active Probes
or visit
Signatone RF/Microwave Probing